CLASSIC VERONA

The tour normally starts from Piazza Bra', meeting point the statue of Vittorio Emanuele II.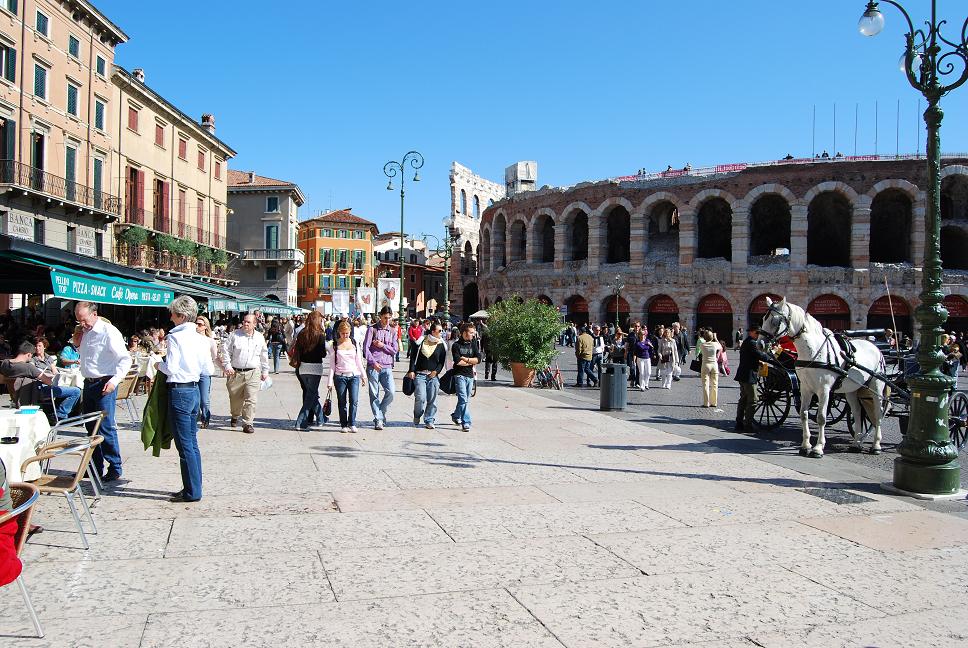 The piazza offers a rich variety of palaces from different periods and above all the wonderful Roman Arena, built in the 1st century A.D. and considered the best preserved amphitheatre in the world.
The tour continues to Porta dei Borsari, Borsari Gate, the main city gate in Roman times, before reaching the picturesque Piazza Erbe
, the ancient Roman forum. This square, where there has been a market since the 12th century, was recently defined the most beautiful square in Italy by the English newspaper "the Guardian". The palaces that surround the square range from the XII to the XVII centuries and your guide will help you to appreciate them at their best.

From Piazza Erbe the tour continues to Piazza dei Signori, Lords' Square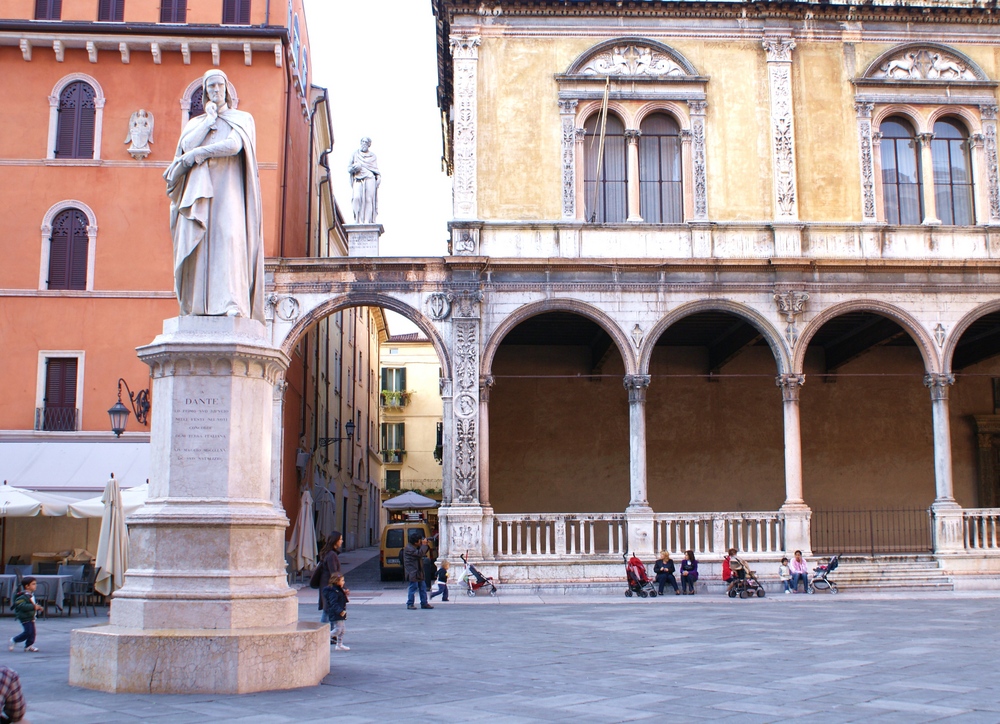 , the heart of the Della Scala family's power. Here you can admire Medieval and Renaissance palaces such as the crenellated Cangrande I Palace, the Venetian Verona Low Court, called Palazzo della Ragione, and the elegant Loggia del Consiglio, the first Renaissance building in the Veneto Region. Close to Piazza dei Signori are the Arche Scaligere, Scaligeri tombs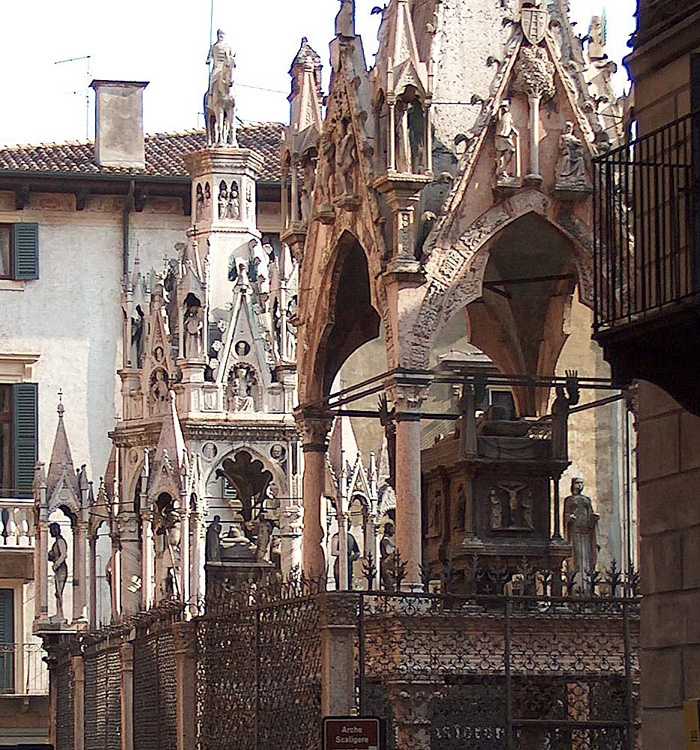 , an amazing creation of the International Gothic style, a style of courtly sophistication.

Soon after the Arche Scaligere we reach Via Sottoriva with its picturesque porticoes and its medieval atmosphere. The River Adige is nearby and from here it is possible to admire the wonderful panorama on the opposite bank of St. Peter's Hill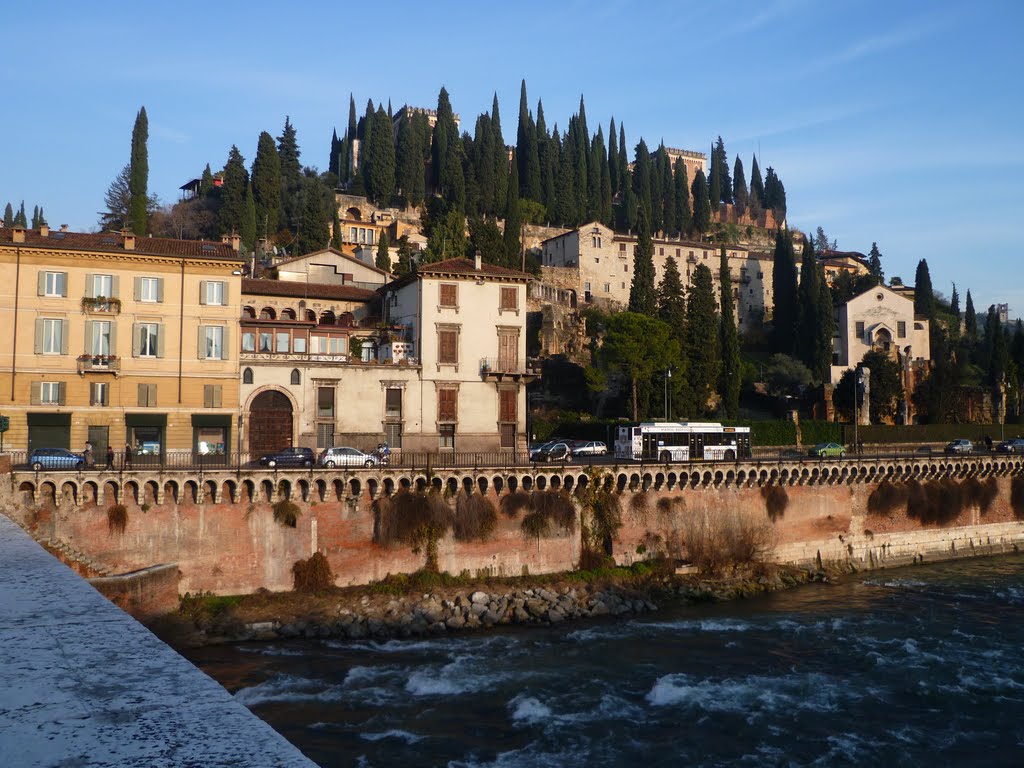 , the Roman Theatre, the Austrian Barracks and Ponte Pietra, Stone Bridge, our most ancient bridge.
Returning to Via Sottoriva we will then head for the world famous Juliet's house where, upon entering the courtyard, Juliet's statue and Juliet's balcony are waiting for us to relive once more the beloved story.

On request it is possible to add another of Verona's monumental churches e.g. : Duomo, Sant'Anastasia, San Fermo.
COACH AND WALKING TOUR ITINERARY
If you arrive in Verona by coach your guide will join you at Porta Nuova, New Gate, or at the new ex-Gasometro coach park. The short trip by coach allows you to admire the Venetian city walls together with their monumental gates; Castelvecchio Old Castle and its bridge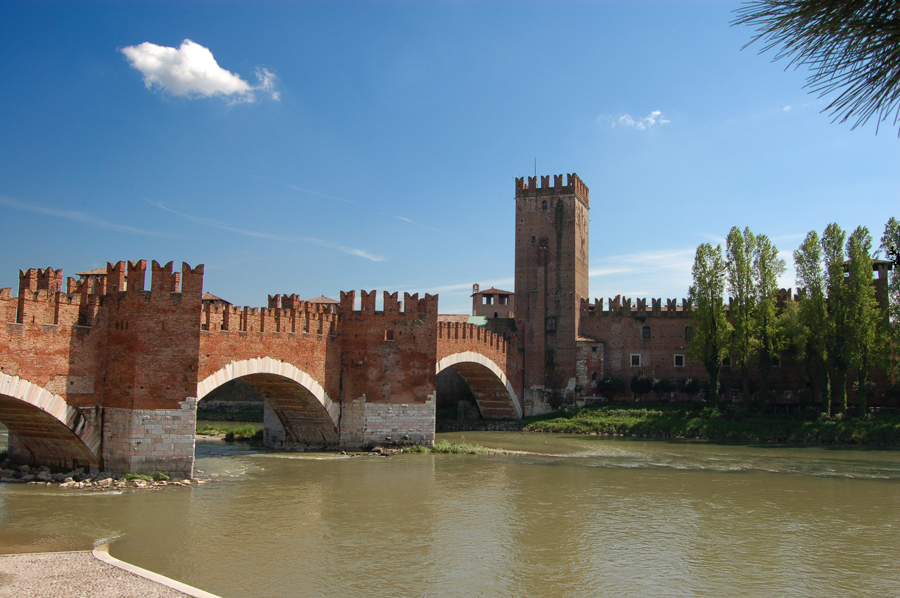 ; l'Arco dei Gavi, Gavi Arch; the Art Noveau villas; Ponte Pietra, Stone Bridge; and the Roman Theatre.
It is also possible to visit Our Lady of Lourdes Shrine on the hill and enjoy a wonderful view of the city from there.
The itinerary continues on foot through the historic city centre. Look at the Classic Verona itinerary to find out more.